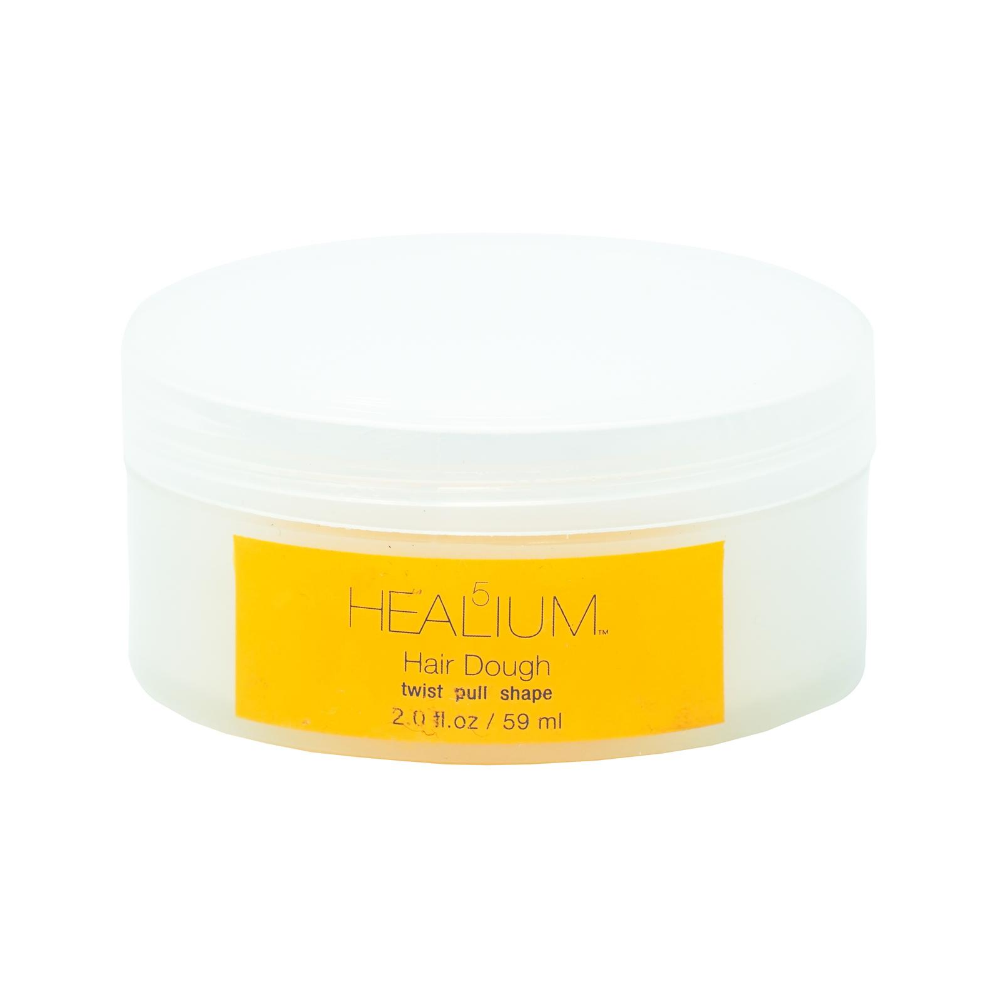 Hair Dough
Description
Give your thin hair texture and shape with hair dough that will hold your style in place. This dough-like putty is flexible and easy to use, whether you have short hair to tame or curly locks to smooth and define. A weightless formula, your hair won't feel heavy or drag your hair down. The natural UV protectors will further protect your hair and won't leave it feeling dry or brittle.
Directions
Apply a small amount of product from fingertip into palm of hand and warm up. Using fingertips work product thru and over hair to define curls or 'piece' hair apart. For a firm hold finish, spritz with FibreFlex Texture Spray.
Ingredients
Water, Aloe Vera Juice, PVP, Lanolin, Glyceryl Stearate/PEG-100 Stearate, Cetyl Alcohol, Castor Oil, PEG-40 Hydrogenated Castor Oil, Beeswax, Propylene Glycol, Glycerin, PEG 40 Diisostearate, Triphenyl Methicone, Clyclomethicone, Sunflower Oil, Linseed Oil, Octyl Methoxy Cinnamate, Wheat Germ Oil, Rice Bran Oil, Jojoba Oil, Hemp Oil, Grape Seed Oil, Pomegranate Oil, Marigold Extract, Kelp Extract, Echinancea Extract, Marshmallow Extract, Vitamin A, E, F, Biotin, p-Amino benzoic Acid, Pantothenate, Inositol, Horse Chestnut Extract, Hydrolyzed Wheat Protein, Hydrolyzed Soy Protein, Hydrolyzed Keratin Protein, PEG-7 Glyceryl Cocoate, Glutamic Acid, Ascorbic Acid, Arginine, Glycine, Methionine, Lysine, Tetra sodium EDTA, Methyl Paraben, Proplyl Paraben, DMDM Hydantoin, Triethanolamine, Fragrance
Save big by buying our bundles
Free Shipping on $49+.
*Get extra value when buying our products together and save big. Visit our bundles page to learn more about our current offers.
Making thin, fine hair beautiful
Making thin, fine hair beautiful
Making thin, fine hair beautiful
Making thin, fine hair beautiful
Key Benefits
Flexible, dough like putty to define curls
Virtually weightless styling product that won't weigh hair down
Add texture to thin or fine hair on all lengths
Light clean fragrance doesn't overwhelm or compete with perfumes
Smooth hair if styling an updo for a sleek shiny finish
Frequently
bought together
See how it's used...
Video Name
Featured Products
Description
Video Name
Featured Products
Description
Video Name
Featured Products
Description
Video Name
Featured Products
Description
Others have asked...
Don't see your question? Contact us here.
I have fine and thin hair, which products do you suggest?
We're glad you asked. All of our products are formulated with a botanical base that is healthy, lightweight, and rinses out easily for thin or fine hair. We recommend starting with a clean base and starting with Healthy Shampoo or Balance Clarifying Shampoo. Pair this with Recover Conditioner. Before styling, create volume with Layer One. Finish your style with aiHr Hairspray.
How long does it take for products to ship?
All of our products are made in the US. Our shipping facility is located in Tampa, Fl. On weekdays, we pack and ship most orders the same day or within 24 hours. Any orders created over the weekend will be packed and shipped the next available business day.
Can you help me pick the right products?
Of course! We are ready to assist any way possible. Tap the chat button in the bottom left corner and we'll get back to you as soon as possible.
Making thin, fine hair beautiful
Making thin, fine hair beautiful
Making thin, fine hair beautiful
Making thin, fine hair beautiful