02.15.2022
What Causes Thinning Hair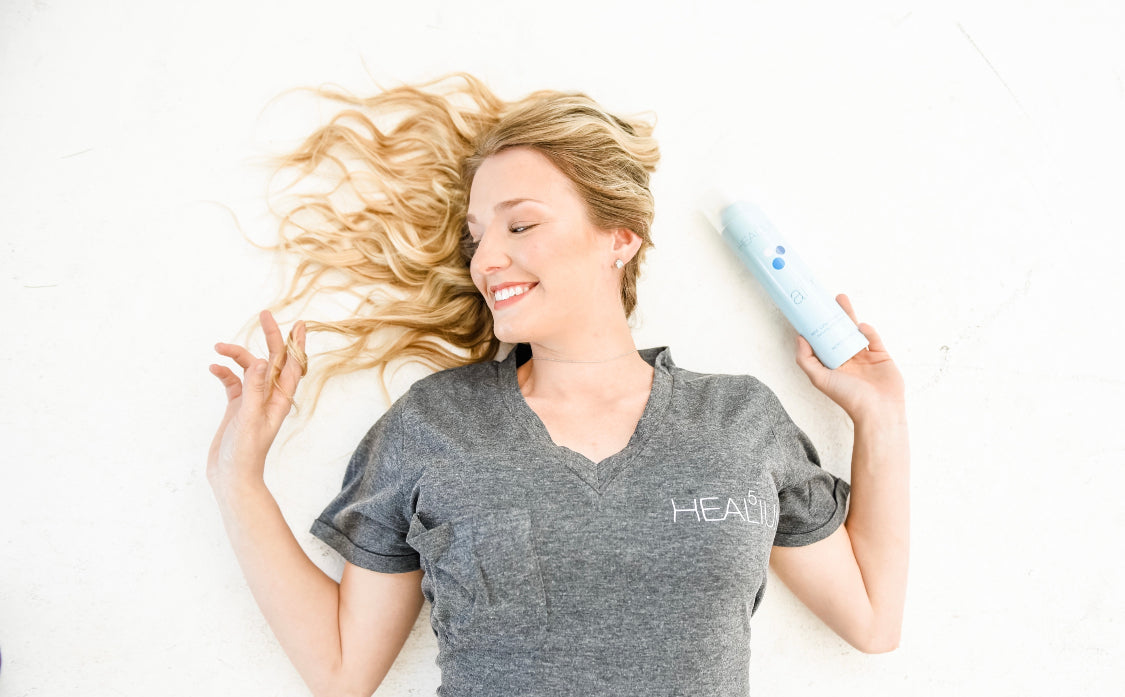 A common haircare issue that doesn't get nearly enough attention is thinning hair. If you're losing hair thickness you once had, it can feel distressing. While our hair can grow thinner over time for many different reasons, different products can help support hair regrowth and thicken hair once again.
Common Causes of Thinning Hair
Hair loss can happen to anyone of any age, although some people are more prone to hair thinning than others. Certain medical conditions, environmental factors, or lifestyle habits can contribute to thinning hair.
Age
As we age, our hair follicles work a little bit slower than they used to. This can cause hair growth to slow considerably, and some follicles may stop growing hair altogether. So, as the follicles begin to work slower, you may start to notice changes in your hairline and scalp.
Alopecia
According to the American Academy of Dermatology, the most common reason for hair thinning is alopecia. Alopecia is a hereditary condition whereby the hair follicles are attacked by the body's immune system. Hair follicles on all parts of the body may be affected, but you may notice changes to your scalp and overall hair density.
Hormonal Changes
Giving birth, conditions like polycystic ovarian syndrome (PCOS), or too much stress can cause your hair to lose thickness. Hormonal changes will typically cause slightly more shedding than usual, which can cause your hair to thin out over time.
Best Shampoos for Thinning Hair
No matter what the cause for hair loss and thinning, not all is lost! There are things you can do to promote hair growth and reduce the risk of hair thinning. Here are three products that can help encourage regrowth and bring some volume back to your hair.
Healthy Shampoo
Our Healthy Shampoo brings your hair back to its best. We don't add sulfates or parabens to our shampoos and remove sodium chloride to make it safe for everyday use on any hair type. Its 23-botanical ingredient formula helps promote balance in your hair and scalp, creating an ideal state for your hair to regain strength and thickness.
Balance Clarifying Shampoo
Never underestimate the need for a clarifying shampoo in your routine. The Balance Clarifying Shampoo is designed to be a weekly add-on to your hair care routine. Its formula is free of sulfates and parabens and instead uses Sodium C14-16 derived from coconut to preserve the natural oils on your hair and only remove the unwanted buildup.
The Balance Clarifying Shampoo is essential for thinning hair, whether you use hair products or not. It lifts away the oils and sweat and leaves a clean scalp, so the follicles have a premium environment to work at growing your hair.
Positive Reaction Shampoo
If your hair needs some serious love and repair, the Positive Reaction Shampoo is for you. When hair is thinning, whether it's from too much stress, poor diet, hormonal changes, or anything else, usually the strands are also struggling. If you also color process or chemically treat your hair, your strands will need repair. This formula is designed to deeply moisturize and heal damaged hair. So once you've treated your scalp with one of our Healthy Shampoo or Balance Clarifying Shampoo, the Positive Reaction Shampoo will take care of the rest.
Bottom Line
Just because thinning hair is normal, that doesn't mean we have to live with it. By treating your hair, scalp, and body with care, you can help support hair regrowth and get back the luscious strands you love.