04.30.2022
4 Simple Steps to Add Shine Back to Your Hair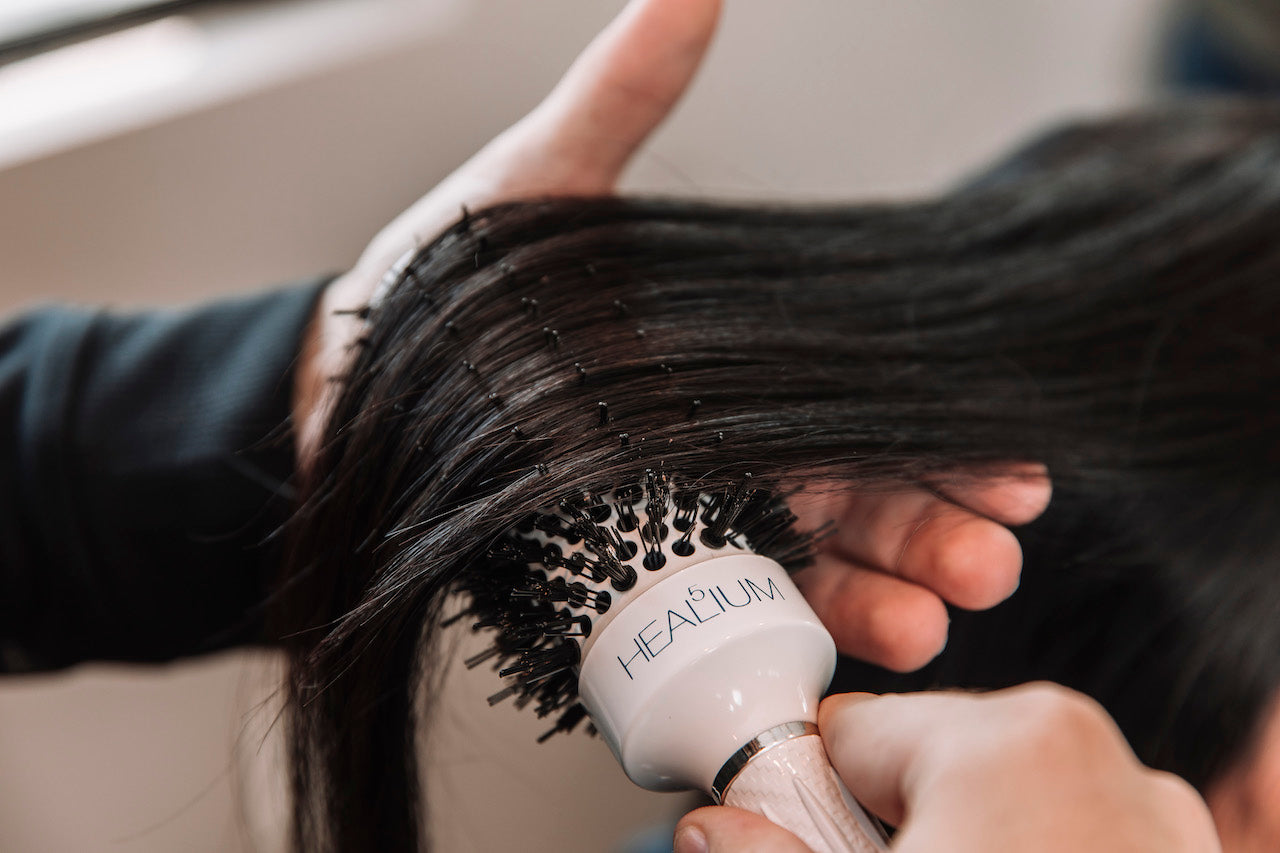 Lackluster hair that looks flat and dull limits your styling options and makes hair hard to work with – it's also not a lot of fun to show off. Adding shine back to your hair doesn't take a drastic cut or blowouts. 
With just some simple hair care tips and specialty products, you can reset your strands and enjoy shiny hair again!
1. Use A Clarifying Shampoo
Restoring shine to your hair starts with your shampoo routine. Everyday shampoos are great for your basic cleansing needs, but a weekly clarifying shampoo can transform your hair. Washing with a daily shampoo is enough for a simple clean. But if your hair still feels dirty, dull, oily, or your product isn't applying smoothly, clarifying shampoo can restore your hair to its glory.
Healium Hair's Balance Clarifying Shampoo has a unique formula to break down dirt, sweat, product buildup, and oil without stripping the hair of the moisturizing oils it needs to look healthy. When your hair develops buildup, it erases your hair's natural shine and brilliance, dulling your texture. With the Balance Clarifying Shampoo, gentle botanical ingredients powerfully dissolve impurities and restore hair's shiny state.
2. Rinse with Cold Water
Rinsing your hair with cold water at the end of a relaxing warm shower doesn't sound fun. But it can really benefit your hair's shine factor. Rinsing with cold water seals your strand's cuticles, encouraging your hair to smooth, reduce frizz, and improve shine. 
When your hair lays smoothly after the cold water seals the cuticle, you're not battling frizz, automatically making keeping hair shiny infinitely easier.
3. Add Moisture
Locking in moisture to your strands gives your hair the best chance for long-lasting shine. While moisturizing shampoos help hydrate your locks, there's nothing like a hair mask to restore hydration and boost shine. For extra-strong strands, Healium Hair's nutrient-dense formula soothes and repairs damage and brings your hair back to life!
As a soy protein-based mask, Healium Hair's Black Magic Protein Treatment infuses your hair with nutrients and hydration for shinier and silkier strands. If your hair is dull and flat from the environment, coloring, or damage, the weekly treatment will restore your locks' shine, softness, and smoothness. The appearance of your hair will transform, but you'll also have a hard time resisting running your fingers through the softness!
4. Shine Serum
Just from the name, you know you need this in your arsenal to get the glowing shine back to your hair! Shine serum seals the cuticles of your hair strand to give you a lasting style that looks sleek.
Focus your serum at the ends of your hair where dull hair is most visible – work the product up your strands without applying too much product. Serum application is smooth and simple, so you don't need a lot to get the silky shine back to your hair. 
Healium Hair's Reflect 6 Shine Serum is a weightless serum that will keep your hair looking silky without an oily look. The serum works by locking in moisture and smoothing the hair, making the frizz disappear. Reflect 6 Shine Serum is uniquely formulated to protect your hair from discoloration from the hot sun and is nourishing for color and keratin-treated hair. Healium Hair's Reflect 6 Shine Serum is clear, unlike other serums, eliminating potential brassiness on light hair.
Bottom Line
Achieve flawless shine with a few simple steps and notice how long-lasting the results will be. These steps won't only improve shine, but they help strengthen your locks, keep your scalp healthy, reduce frizz, and more.