02.16.2022
5 Tips to Transform Dry Hair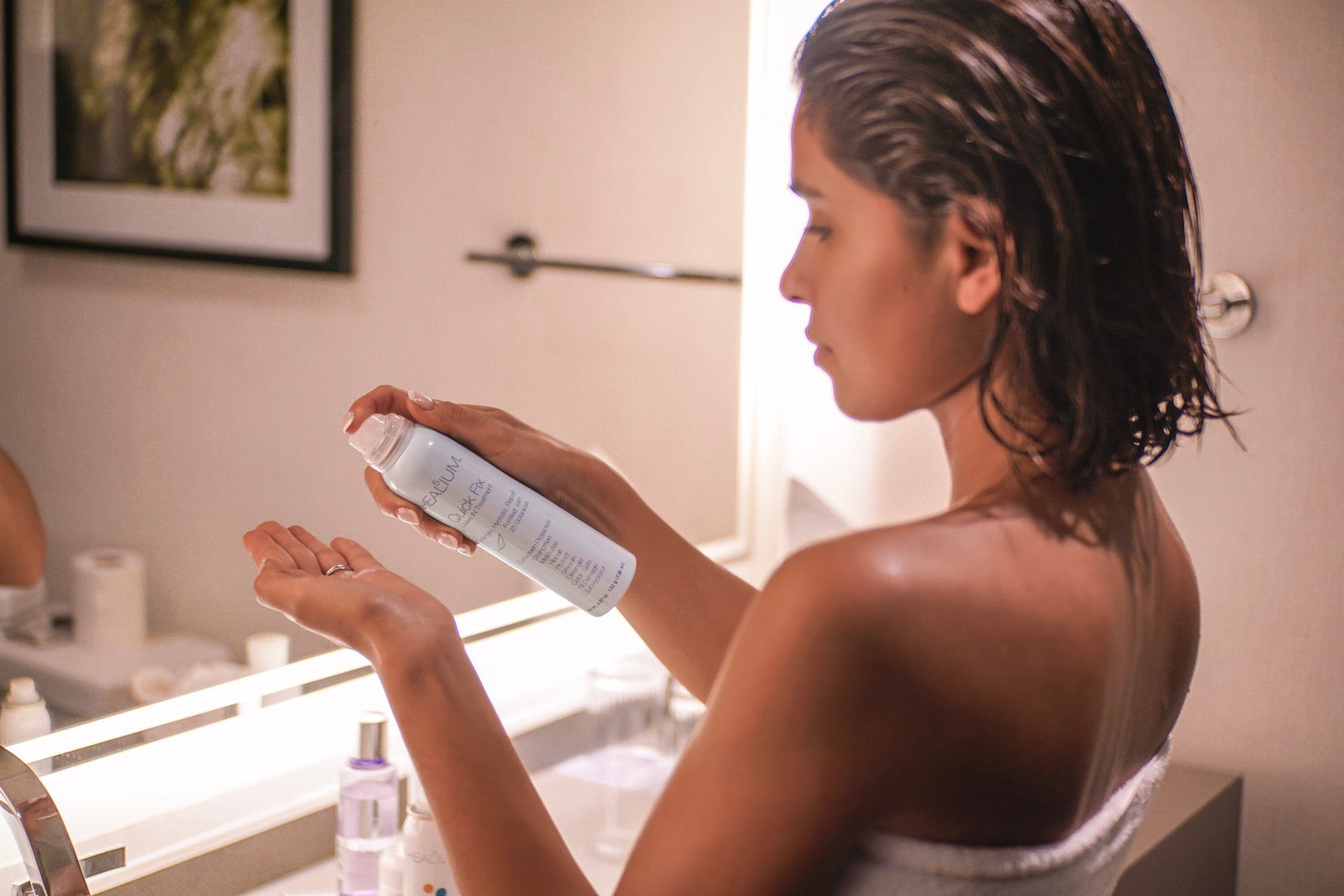 Dealing with dry hair can be a battle. It's more breakable, brittle, and harder to tame. Whether it's due to seasonal changes in the air or a general lack of hydration, dry hair can make curls frizzy and straight hair full of static.
This time of year, especially, we need to combat dry hair once and for all. With these five tips, your hair will be hydrated, healthy, and ready for whatever style you choose.
1. Don't Wash Your Hair Daily
There are many mixed messages about whether you should or shouldn't wash your hair every day. But, if you're experiencing dryness, it's important not to wash your hair too frequently. In a typical wash, you're cleansing your hair and scalp of the oils that help moisturize the hair. By stripping them away, you're creating a dryer environment.
However, if you're worried that washing your hair less will make it feel less clean, you just need the right shampoo.
Healium Hair's #1 selling shampoo is the Healthy Shampoo. This weightless formula will offer you a fresh clean that won't dry out your hair. It's safe for color-treated hair and all hair types. Best of all, it's equipped with sunscreen protection to keep the elements from drying out your hair further.
If you love to wash your hair every day, the Healthy Shampoo is designed to be gentle enough for daily use while still cleansing your hair of the day's buildup.
2. Get Regular Trims
If your hair is really lacking hydration, one of the first places you'll notice it is in the ends of your hair. Split ends can be the starting point for a lot of damage to strands, so the best way to stop it is to do a slight trim.
If you love the length but want to keep it healthy, ask for a "dusting" when you are in your stylist's chair. It's the type of trim that will eliminate the unhealthy ends without taking precious inches off your hair.
3. Use Hydrating Products
Dry hair needs all the support it can get, so by using hydrating products, besides shampoo and conditioner, you'll better protect it from dryness. The natural oils in our scalp don't safeguard the strands as much as they do the roots, so we need to offer it a little helping hand.
By using a hydrating product, you lock in moisture and make styling your hair a gentler process.
Healium hair has a hydrating leave in conditioner. The Quick Fix Leave-In Treatment is a powerhouse product when it comes to hydrating and fortifying your hair. It locks in moisture and helps fix and prevent future damage to your hair.
It not only powerfully hydrates, but it also makes styling your hair manageable and damage-free. Whether you're heat styling with a blowout or are diffusing your curls, working this leave-in treatment into your damp hair will smooth out your style and create a thermal barrier for your strands.
4. Rinse Your Hair with Cold Water
After washing your hair, try rinsing your hair with cold water for a change. It can help smooth out the strands, boost shine, and strengthen the hair. It also seals the hair's cuticles and the scalp's pores, locking in the moisture that your shampoo and conditioner let in.
If you're not a fan of the cold-water rinse, at the very least, you should try to avoid water that's too hot. Water that's too hot can lead to your hair becoming increasingly brittle over time. And because the hair is porous, hot water can lead to more frizz.
5. Treat Your Hair Gently
We tend to be rough on our hair – brushing it too hard, pulling it up too tight, and wringing it out when it's wet. Many of the ways we work our hair dries it out. By switching to microfiber towels, silk or satin hair elastics, or a gentler hairbrush, you can save your hair from unnecessary breakage or damage.
Healium Hair offers a dry shampoo to help prevent the need for daily washing. Be gentle to your hair by introducing a light dry shampoo. The aiHr Dry Shampoo saves your hair from grease between washes and gives you a boost of volume when your hair needs it. The best part is that it has UV protection, so no need to worry about the sun's rays drying out your hair.
Bottom Line
Take control of your dry hair and bring it back to life. By making some changes to your hair care routine and introducing some hydrating products, even the coldest, driest winter weather won't stand in the way of healthy hair.