03.31.2022
6 Tips All Women with Thin Hair Should Know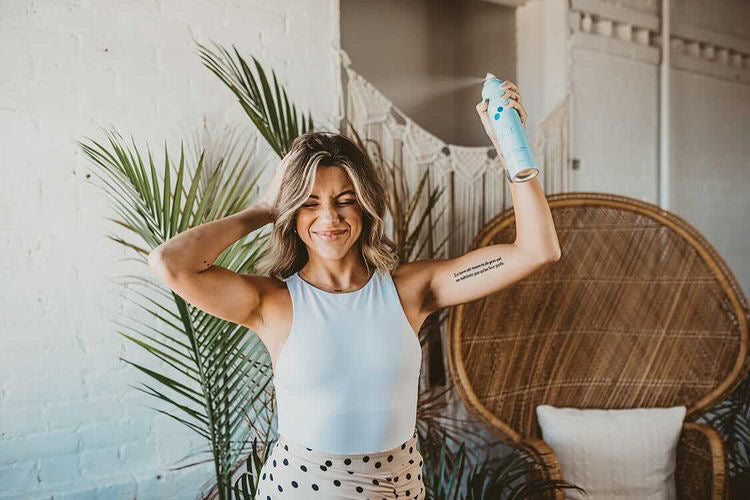 With different hair textures, unique care practices bring out your hair's healthiest look and feel. Thin hair can be unforgiving – it needs all the proper care, or you'll end up with limp, lifeless strands that look damaged or greasy. 
But having naturally thin hair doesn't have to be limiting, and you can achieve luscious locks that are ready for styling with just a few simple tips. 
1. Limit Heat Styling & Use Heat Protectant
Blow drying your hair right out of the shower, then using a flat iron or curling wand are common steps in the ritual of getting ready. Your hair can put up with a lot of styling and can even handle heat up to 450° F, but too much heat styling can cause damage that will need to be trimmed away. 
How Can You Style Hair Without Heat?
The easiest way to limit your use of hot tools is to embrace your natural texture, but sometimes you want to change it up! Styling wet hair to get different styles and textures is your best opportunity to mix up your style.
Braid your hair for defined waves. A simple way to add some texture to your locks is by braiding damp hair and letting it dry naturally. You can weave your hair in the evening and sleep on it or braid the hair in the morning to keep it off your face during the day and have flawless waves for a night out. You get bonus points for French braiding and bringing a little extra wave at the roots!
Wrap your locks for heatless curls. The budget method for heatless curls is to twist your hair and secure it to your scalp with bobby pins – but if you're looking to invest in a long-term tool, satin curling rollers can offer stunning curls without the frizz. They're safe, easy to use, and give you desirable curls that add volume to your thin hair!
How Does Healium Hair's Body 5ive Bodifier Protect Your Hair from Heat?
A multi-tasking powerhouse, the Body 5ive Bodifier is not only an anti-frizz styling
product, but it also protects your strands from heat up to 450° F. Applying the product on damp hair before heat styling offers thermal protection to your strands. Once the heat hits your hair, the Body 5ive Bodifier adds unimaginable volume.
The heat-activated product will leave your hair shiny, frizz-free, and without damage. Misting Body 5ive Bodifier will help protect hair from heat-related breakage if you need heat touch-ups on second-day hair.
2. Limit Daily Hair Washing and Keep Conditioner at the Ends
Extending the time between washes is the best thing you can do for your scalp – though it may not seem like it at first. If you're used to washing your hair every day, you may feel like your hair gets greasy faster, but you'll quickly notice the benefits to your hair. 
Hair health begins at the root, and daily shampooing can strip the scalp of the natural oils it needs for optimal hair growth. Your hair will feel dry and brittle and make it more prone to breakage – this can make it look and feel thinner, which is the opposite of what you want. 
Proper conditioning technique is also crucial for thin hair. Concentrating conditioner on the scalp can make your hair appear weighed down and greasy, which can flatten the look of your strands. Keep the conditioner towards the ends of your hair to nourish the locks and prevent breakage and split ends. 
3. Avoid Layers When Getting Your Hair Cut
Cutting thin hair is an art – you want to create the illusion of volume while keeping your hair looking stylish and chic. Layers may be a timeless trend, but you should be wary of layers with your thin hair. They're ideal for thick hair because it removes density and weight, but hair density is precisely what thin hair needs. 
Your thin hair will need more frequent trims to keep your strands from damage and split ends. Getting slight trims every six to eight weeks helps your hair look full with lots of movement and body. 
4. Flip Your Hair Upside Down When Blow-Drying
Most people don't realize how powerful a blow-dryer is for achieving significant lift at the roots. Traditional blow-drying straight down seals the hair's cuticle and can have your locks appear dulled. By simply flipping your hair upside down and blow-drying from a new angle, your once damp hair will dry to a voluminous style. 
Starting the blow-drying process from the back of the head rather than the front, near your face, can completely change the final product. You can always flip your hair right side up again to reach the locks that are still damp without losing the body you created.
5. Use a Clarifying Shampoo to Get Rid of Buildup
Everyone should have clarifying shampoo in their shower for a weekly hair reset. As we use products, go outside, play sports, or go to the gym, your scalp accumulates buildup of product residue, grime, and sweat that regular shampoos can't break down. Clarifying shampoo can get rid of all the buildup without stripping your hair. 
What Can Healium Hair's Balance Clarifying Shampoo Do for Your Hair?
Buildup weighs your hair down and looks heavy, but Healium Hair's Balance Clarifying Shampoo gently treats the scalp and hair to promote hair follicle health. Sensitive scalps don't have to shy away from the Balance Clarifying Shampoo – five natural extracts nourish the scalp so your skin doesn't feel dry and brittle after you cleanse. 
Unlike other clarifying shampoos, this formula is color and keratin safe and has UV protection to protect your hair from sun damage. Whether on the beach or in the mountains, your hair won't face discoloration from the elements.
6. Invest in a Good Dry Shampoo
One of the greatest hair care inventions is dry shampoo – as professionals urge less frequent hair washing, dry shampoo is the problem solver for oil, sweat, and other buildup. For thin hair, even the slightest amount of oil can make the hair look bland, so dry shampoo is a refresh for your scalp. 
Dry shampoo can also be a styling tool outside of absorbing oils. If your hair is clean but your roots need a lift, dry shampoo is the perfect product to turn to. It's low-maintenance – all you need is to spray eight to ten inches from the root, work the product into your scalp with your fingers, and you're done!
How Is Healium Hair's aiHr Dry Shampoo Different from the Rest?
A common complaint of dry shampoo is the residue it leaves behind, but the aiHr Dry Shampoo is a weightless formula that looks and feels invisible. The dry shampoo will quickly absorb in seconds, making it a low maintenance necessity for second-day hair. 
As a texturizing spray, it creates free and flexible volume and gives your roots a helping hand with or without teasing the hair. With added UV protection, color preservation, and a light, airy feel, the aiHr Dry Shampoo can transform your strands.
Bottom Line
Thin hair needs unique styling and products to create the impression of thicker hair. Mastering the tricks to working with thin hair can have everyone thinking you were born with luscious hair. With these tips and products, enviable hair is attainable.