09. 2.2022
Are Better Brushes Worth The Hype?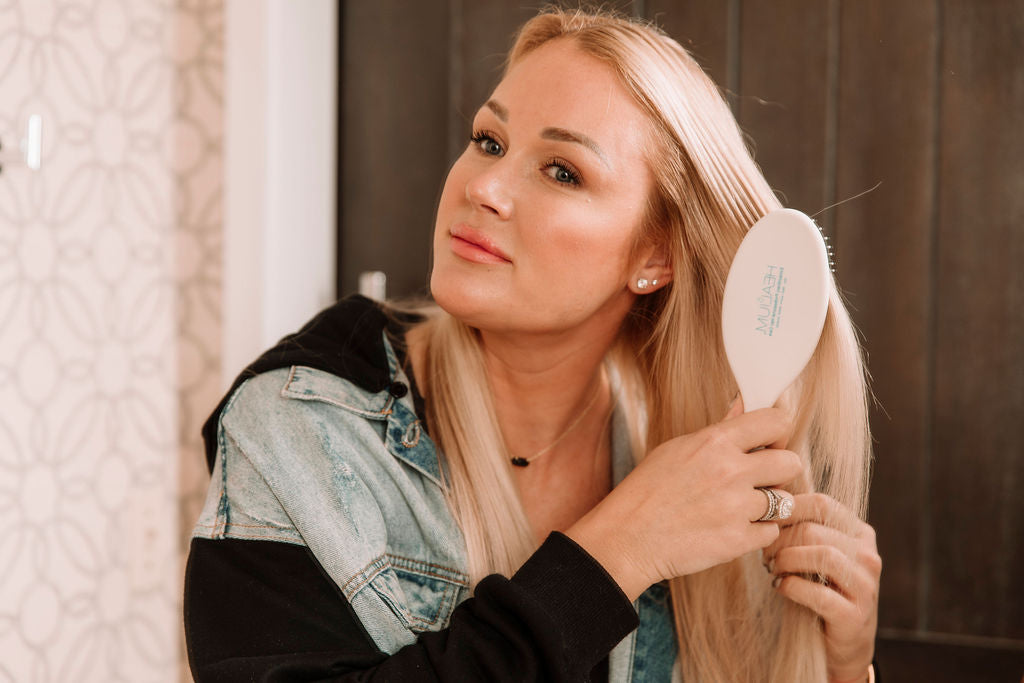 Are Better Brushes Really Worth The Hype?
We all want gorgeous hair, so we focus on thousands of hair products, including serums, mousse, and a lot more. One thing that we give little consideration to is the "hairbrush." We typically use hair brushes daily, but when it comes to changing the hair brush, we tend to be a little forgetful.
Do you remember when you purchased a new brush? If you haven't in a minute, keep reading. There are so many brush options, and they are so hyped that it genuinely becomes difficult to decide which one to buy.
Which Brush To Buy?
Well, we have got you covered. Here's the ultimate guide about 'are better brushed is really worth the hype.' Your hair's health and appearance is counting on it!
The best Brush for anyone who has fine or thinning hair will be very different from that for anybody with long, curly hair. Round or vented brushes work best for style, while other brushes are better for detangling, and some even help with static hair frizz. Here, we'll discuss several brush kinds and the benefits they may provide for your hair.
Detangling Brush
Your hair might become so knotted at times that you may just want to cry. Anyone would contemplate getting a significant haircut just from the prospect of trying to get through those difficult snarls. Having knots block the shower drain is frustrating; detangling might feel like a long time in hell based on your hair form!  However, things don't have be this way.
Take a moment to relax before you start your detangling adventure. No matter what the hair's texture is, the goal is to start at the tips and begin working your way to the roots.  
Detangling in the bath with conditioner or a mask for curly or kinky hair since it softens the shafts and makes it simpler to loosen any knots. Having to work segment by segment will make it much easier if your hair is particularly knotty or thick.  To prevent pulling and harming your hair, dedicate the necessary time to remove knots thoroughly. Here is a brush that is worth a purchase.
Healium Detangling Brush
For both wet and dry hair, this anti-frizz hair brush aids in detangling, hence the name. The bristles are considerably finer than those of other hair brushes, and it helps to smooth and defrizz when using a hair drier.  The flexible but firm bristles minimize damage without pulling.  And the nylon tips stimulate scalp which can help with hair growth.  Who doesn't love a good scalp massage?
Round Brushes
If you started using a blow dryer and a round brush around the age of twelve and yet never turned back, you probably don't comprehend the struggles faced by others who struggle! We've been watching the best hair professionals at work, poking them for advice, and diligently collecting notes.
Choose Your Round Brush Carefully. Whereas vented metallic round brushes were useful for heat reinforcing while style, natural boar brushes are often harder and denser and produce more pressure when pulling your hair, which results in greater fullness and bounce in the ends. Avoid using little brushes unless you're an expert since you run the danger of tangling your hair in the bristles.
The easiest method to blow-dry your hair using a round brush is to take your time. Changing the direction the Brush to an angle in relation to the ends of your hair too. After lifting the roots, turn your Brush vertically rather than constantly holding the blow dryer horizontally.
Alternate Your Heat Settings: Reduce the settings to medium around your hairline, and then utilize the tension you're producing while combing a round brush through the hair to smooth it out.  You can get a salon-quality blowout at home with the right round brush,
Round brushes are available in a wide range of sizes and a huge selection of bristle types. Ours is a 1.5" barrel. It is important to consider both the length of your hair and the size of the curl or wave you want as two factors to consider when selecting the size of your round Brush. Larger barrel brushes have a reputation for straightening hair and generating gentle waves, whereas smaller brushes are known to produce tighter curls.
Healium Round Brush
The ceramic barrel in the Healium Round Brush heat up when used with a blow dryer. It helps tame frizz, avoid tangles, and provides the desired bounce to your hair. The diameter of our round brush is 1.5 inches, and it has 2 types of bristles. Hair is detangled without pulling with nylon bristles and smoothed and shined with boars hair bristles. Designed with a comfortable handle, this is the perfect Brush for the perfect blowout.
Bottom Line
Choosing the right brush according to your hair type is important. You want a luxury blowout at home and you can get it with the right tools. Proper care can always make the hairs luxurious, shinier, and luminous too!