11.12.2022
Does My Hair Need Moisture Or Protein?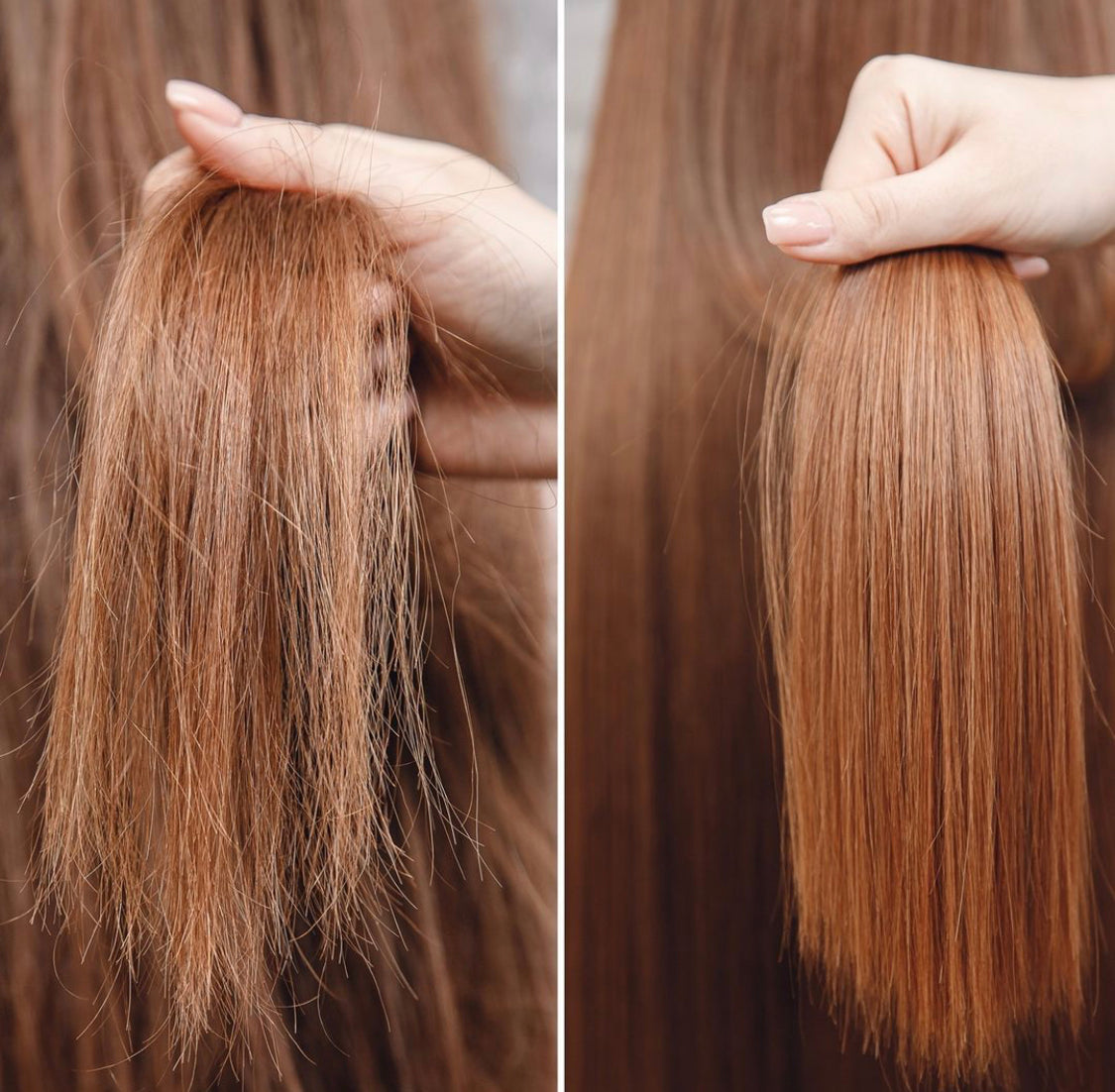 Does My Hair Need Moisture Or Protein?
There might be several reasons why you've had dead-looking hair lately. Your hair regimen may be affected by anything, including the water in the shower and new styling products. However, one component of regrown hair is less usually mentioned.
Protein is among the fundamental building elements of healthy hair, just like it is for your body. Protein is necessary for your hair to feel and appear as robust as possible.
Importance Of Protein For Hair?
Your hair will look lustrous, have a ton of body, and bounce when it contains adequate protein. It could be time to consider whether your hair needs protein if you experience that it is not performing to its full capacity.
If your hair is missing protein, you could need to go more directly as your food accounts for a large portion of your hair's protein needs. Not certain if your hair needs protein treatments? Well, we got you covered.
You may be deficient in protein if you find that your hair has started to get stringy, limp, or sticky. The minerals and proteins in hair will be increased using natural hair products and protein treatments, which will help rebuild and strengthen natural hair strands. Your hair will remain in its healthiest form if you use protein-rich strands.
Difference Between Protein Deficit And Moisture Deficit Hair
The body's most complicated appendage, hair, comprises several proteins. As a result, proteins are a crucial area of attention for hair maintenance. Some potential symptoms of a protein deficit in the hair include limp, stringy, or sticky hair.
Think of amino acid residues (proteins) as the skeleton of your hair; they provide strands of strength and structure. Without enough protein, hair can crack and become fragile. Your hair is far more likely to break if there isn't enough protein.
If you've undergone several chemical treatments (such as relaxation and highlighters) or hot tools, your hair may lack moisture). Dryness, tangles, thin hair, split ends, and lack of luster are a few symptoms of moisture loss in the hair.
How Can I Tell If I Need Protein Or Moisture?
The distinction between healthy hair and a healthy scalp versus brittle, dry hair may be made by determining if hair requires protein or moisture. Without getting too technical, the protein and moisture are different at the atomic level. A disulfide bond binds one strand to the next. Proteins will strengthen these linkages, resulting in stronger hair and fewer chances for hair damage. Meanwhile, moisture hydrates the connections and influences your hair's feelings and looks.
So how would you determine whether you need protein or moisture? The easiest method is gently stretching a strand of hair, wet or dry. If it hardly stretches and breaks, you may seem to have enough protein and need additional moisture. You also need protein if you comb your hair and hairs fall out. Similarly, if your hair seems dry, you probably need more moisture.
To avoid hair damage, your hair needs moisture to become less brittle and more elastic. Treatments with moisture nourish the hair and replenish its softness and smoothness. You are often likely experiencing moisture loss if your hair feels harsh and you have overused relaxers, dyes, or heat styling products.
You may see fragile, dry, and easily knotted coils and curls here. Dehydrated hair also exhibits a lack of luster and the inability to withstand heat. Create a consistent hair care regimen for hair that lacks moisture to help pull water content into the hair strands. This will increase strength and bounce.
If your hair is permeable to water, limp, has poor elasticity, sheds, or has just been dyed, you'll need protein in your hair. The hair's cortices (outer layer) are exposed to external stresses due to breaks and holes in high porosity strands. Unfortunately, this results in faster than usual moisture absorption and evaporation from the hair, which results in knotted and frizzy strands. You will want a hair protein repair to thicken your strands to fix the rips and gaps.
Treatment To Have Luscious Hair
Technically the hair care for both types differs. Products with a protein content can be identified by phrases like "repairing," "restoring," "strengthening," or "rebuilding." are you confused about how to fix your hair? Well, we got you covered. We have listed down 2 magical products that are perfect for your hair and will add life back to your hair.
Every week, use this soy protein-based condition mask for amazing results in just three minutes. It makes thin strands stronger and healthier and aids in the hair's ability to retain moisture. It will smooth, add shine, and make your hair silky, making it ideal for an after-color treatment. Our black magic protein treatment is created with a botanical foundation that is gentle on thin or fine hair, healthy, and easy to rinse off. 
How To Use It?
After rinsing out your shampoo, you should apply this treatment once every seven days. No need for a secondary conditioner.  Apply to damp hair, staying at least two inches away from the scalp. Allow it to rest for at least three minutes, and then thoroughly rinse away the therapy.
The ideal complement to all of our cleansers is this all-purpose conditioner. Your hair will remain healthier and longer if you nourish, hydrate, and repair any damage to the strands. This mixture can be applied as a deep treatment once a month or as a weekly conditioner. Over time, you'll see bouncy, healthier, moisturized strands.
How To Use It?
Work the product into the hair midshaft to ends, and let it on for about three to five minutes. Then thoroughly rinse. Before allowing the product to sit, comb your hair with a wide-tooth comb to ensure it is evenly distributed.
Apply to towel-dried hair for a thorough treatment, then leave in for 20 minutes. For deeper penetration, you may use it with a cover and warm it in a dryer.
Final Words
We hope this has made the difference clear. If you are still confused about which product to purchase, we are still ready to assist you. What are you waiting for? Order now and have luscious hairs in no time.