01.31.2022
How to Manage Knotty Hair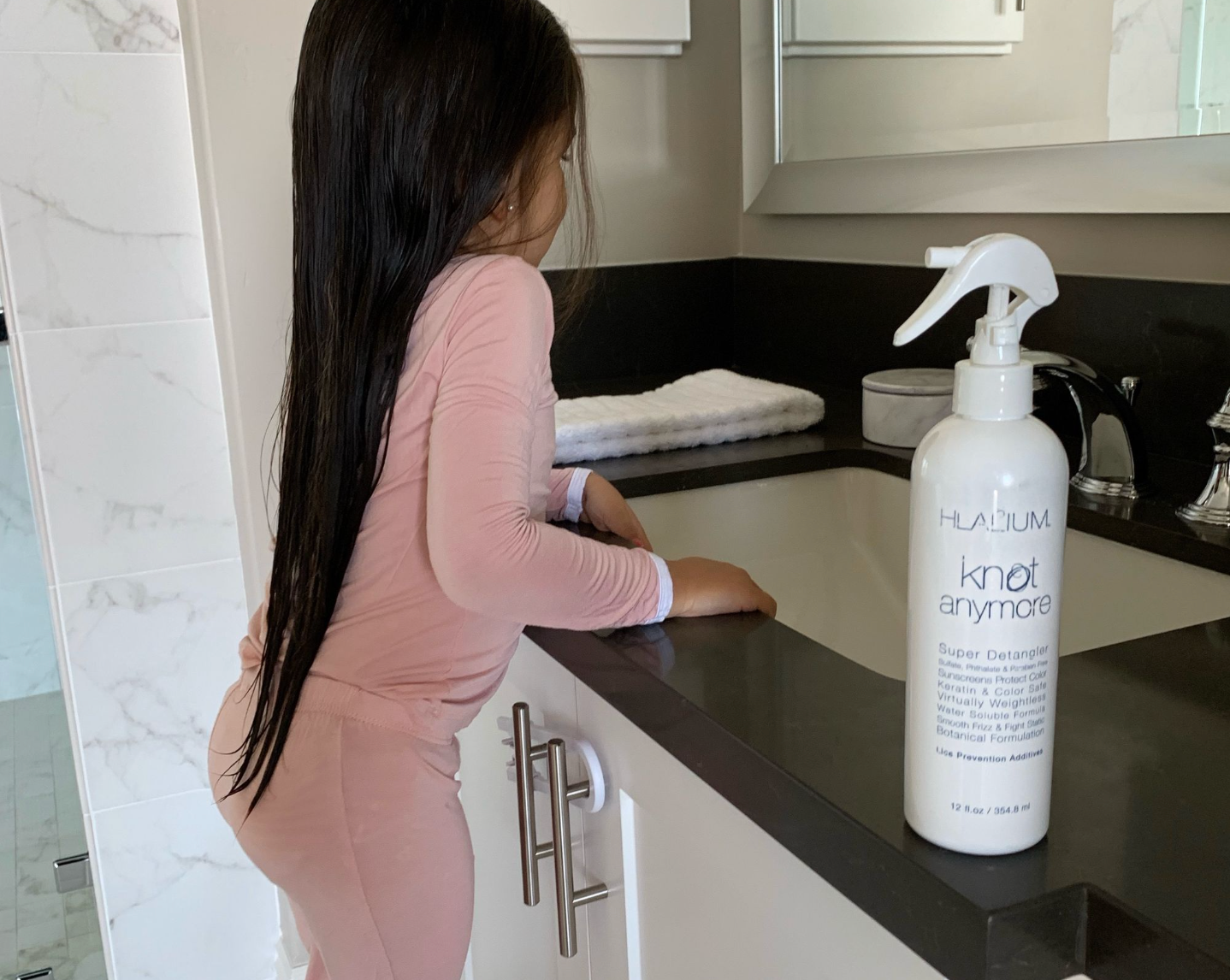 Tangled hair can be legitimately painful to deal with – trying to comb it out with your fingers or hairbrush can make you want to pull your hair out. Luckily, detangling spray can help untangle the knots in your strands without tears of frustration.
What Causes Tangled Hair?
No matter how gently you wash and condition your hair, knotty hair is universal – things entirely out of your control can cause snags in your locks.
The heat from the sun, hot tools, or even sweaty activities can cause all sorts of tangles in your hair.
A lack of moisture is also the culprit for knots – as you know from your last trip to the beach, wind and salt wreak tangled havoc on your hair.
Wearing necklaces or carrying bags on your shoulder can get hair stuck and cause breakage, especially on longer hair.
Fine hair and curly hair are naturally susceptible to tangles. If you color or bleach your hair, you might notice more tangles than you're used to.
Not all tangle-causing factors are in your hands, but the way you treat your knots and go about untangling your hair is. To avoid making your tangles worse than they are, you can use these tips and products to get untangled results.
What is the Best Way to Detangle Hair?
Detangling spray is the number one most effective way to combat knots in your hair. You should always work to detangle your hair when it's damp – using a wide-tooth comb to start, along with your detangling spray, gently comb out your strands starting at the ends.
Undoing all the damage done by knotty hair can take some time, so it's important not to rush or be too rough. Being too aggressive with your tangles will cause breakage, not only causing split ends but making your hair more likely to tangle again.
Is it Better to Detangle Before or After Washing?
Washing and conditioning your hair before trying to detangle will be the least frustrating way to tackle your knots. If you have coil curls, you might want to try a first round of detangling while you still have conditioner applied. It will create a smooth, slippery surface for your wide-tooth comb. Follow that up with some detangling spray once you're out of the shower.
Once you've conditioned, using your detangling spray on towel-dried hair will give your hair some extra moisture and strength to work out those tangles pain-free.
What Products Does Healium Hair Offer to Help With Tangles?
Teasing out tangles alone can be tough on your hair, so Healium Hair created Knot Anymore detangler spray. It doesn't just detangle knots – it's a multitasker that also smooths your hair and offers UV protection. The lavender and rosemary give it a fresh scent that leaves no residue or product buildup behind.
Mist your strands with Knot Anymore and brush out the knots almost effortlessly. When you buy this multi-purpose detangler, we'll throw in a complimentary hairbrush – everything you need to work your tangles away.
Is It Okay to Brush Wet Hair?
Your hair is at its weakest when it's soaking wet – if you want to brush your hair right out of the shower, it's important to be gentle, start at the ends of your hair, and not brush too forcefully. Healium Hair's Detangling Brush is designed to smooth wet hair and its fine bristles eliminate frizz to make blow-drys effortless. Your tangles won't stand a chance.
Getting rid of tangles doesn't have to hurt. With the right tools and products from Healium Hair, creating smooth and knot-free strands can be painless and easy.