12. 6.2022
Is Short Hair Good For Round Faces?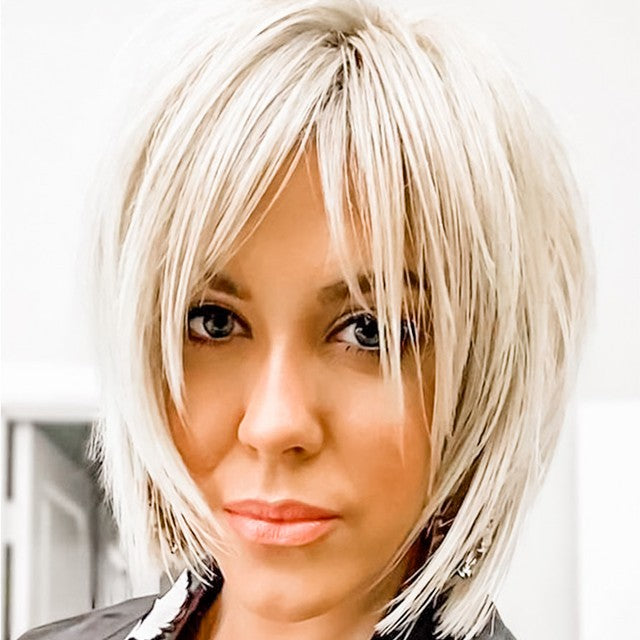 Hair trends are drastically changing. Considering that you might be adding inspirational pictures to your list. Even if it is trendy at the moment cutting your real hair might seem to be a little emotional moment. People usually have second thoughts and all. Whatsoever you think of, one thing you shouldn't consider is your face shape.
We often get overwhelmed by our face shapes. We see certain hairstyles, and he wants them on us so badly; however, we instantly get entangled with thoughts like "Will this suit me?" Or, in case you have a round face, you might think about whether to go for a shorter hairstyle like a neck-length bob cut.
What Is A Round Face?
Is your face round because of your current haircut, or do you have a round face? Well, we have got you covered. Wide hairlines and fullness beneath the cheekbones are features of the round face shape.
Longer hair lengthens the face and looks wonderful on certain facial shapes. Short layers might exaggerate the roundness of the face, while choppy layers are typically the most appealing for this face type. Additionally, side-swept bangs can lengthen a round face. The most crucial stage in extending the face is frequently finding appropriate haircuts for a round face.
Men should often choose hairstyles with greater volume at the top and much more cut around the sides. Men with round features look good with side parts, waves, and rounded goatees. Women should go for haircuts with chin-length bangs or angles that terminate there. Round face types benefit from side parts and edge bangs, and gentle waves or curls are preferable to straight, rounded, or curly styles.
 10 Short Hair Styles Perfect for Round Face
There Can Be No Object As A "Perfect" Facial Form, Just As There Is No Such Idea As A "Perfect" Body Shape. In Light Of This, Short Haircuts Do Suit Round Faces Well, But It All Depends On the Cutting, Shortness, and Styling. So, Whether You Want To Go Short And Sweet With A Lob Or Long And Luscious With A Pixie, I've Picked Up 15 Hair Cut Ideas, And Inspirational Looks For You.
Sloppy Pixie
The secret to counteracting a rounder facial shape is the volume on top. A little trick: adding purple-based shampoos to your regular washing routine may help retain a dazzling blonde color. According to matrix celebrity stylist, "the darker root color also helps attract the focus to the sides of the head."
Smooth-Back Lob
Chrissy's hairstylist claims that her look is particularly effective since it "falls over her shoulders, drawing attention to her collarbone as it descends. Additionally, the way her hair is styled helps to "open up her face, "he claims.
Bob With A Middle Part
The lovely, angled bob worn by Selena Gomez is the ideal haircut for lengthening her face. According to Brittney's hair stylist, the hairdresser selecting a bob style that is longer than the chin and pairing it with a fashionable middle part will provide the appearance of length.
Inverted Pixie
Have your hairdresser cut longer. High cheekbones bang if the thought of a pixie cut makes you uncomfortable, so you may style them forward before giving the appearance of length.
Tactile Lob
Since a textured lob is neither too long nor too short, it is the ideal hairstyle for round features. According to the hairdresser, "this cut works because she maintained it a few inches below the jawline, which makes a face look longer, whereas the swept-across bang emphasizes angles on a round face." her advice? Request lengthy, choppy layers from your stylist to create the appearance of angles on your face.
Pixie-Finger Waving
In Addition To Being A Great Bridal Hairstyle For Short Hair, Finger Waves Also Add Texture To The More Conventional Pixie Cut. For A Wonderfully Dramatic Appearance, Create A Side Split And Comb Your Wavy Sideburns To One Side, Advises The Hairstylist. To Assist in Maintain Your '20s-Inspired Look, You May Also Try Applying Wrap-Set Lotion like AiHr Whipp Mousse.
Curly, Tousled Bob
Any face shape looks fantastic with soft curls, but round faces benefit especially from curls that hit underneath the chin line because they add breadth in all the correct spots. Don't forget to put some hair spray on your hair after curling it for a little more hold.
Bob with Deep Side-Parts
An imbalance can occasionally lead to greater equilibrium. Hairstylists believe that a deep side part causes the eye to go from side to side rather than around the face. Applying a few drops of Reflect 6 Shine Serum can keep your hair appearing sleek (and flyaway-free).
With Full Bangs Pixie
The face seems to be sliced in half by a jagged cut like Viola Davis's, giving you the illusion of having a heart-shaped face. A piece of advice: for a piece-y finish, rake and rub a little amount of Downtown or Uptown gel through the edges of your cut.
With Full Bangs, A Lob
According to hairstylists, a rounder facial shape is naturally broken up by bangs, which have a slight airiness. Another significant plus? Wonky, layered bangs are simpler to grow out since they seem more deliberate the longer they are.
A Pixie with Sides Shaved
An asymmetry haircut that covers one side of the face, similar to a deep side part, makes a rounder skeletal structure appear more oval. Your hair stylist may advise curling the longer side.
Broad Bob
According to the hairstylist, "a shaggy lob with asides and back straight through a fuller face to somewhat extend It." try one of these easy DIY wavy-hair hacks if you want to give your naturally straight hair some texture.
Final Words
Selecting long or medium-length hair will balance out your round face without needing further style. A lob haircut may be readily modified to fit a round facial structure with a few extra changes. A lob may function for a round face by adding structural components like curls or a lateral parting, as well as the added volume at the crown. The hair lengths that seem the least attractive on a round face are often bob and pixie cuts; however, with our guide, you can rock them no matter what.