03. 5.2022
Why Every Woman With Fine Hair Needs a Good Dry Shampoo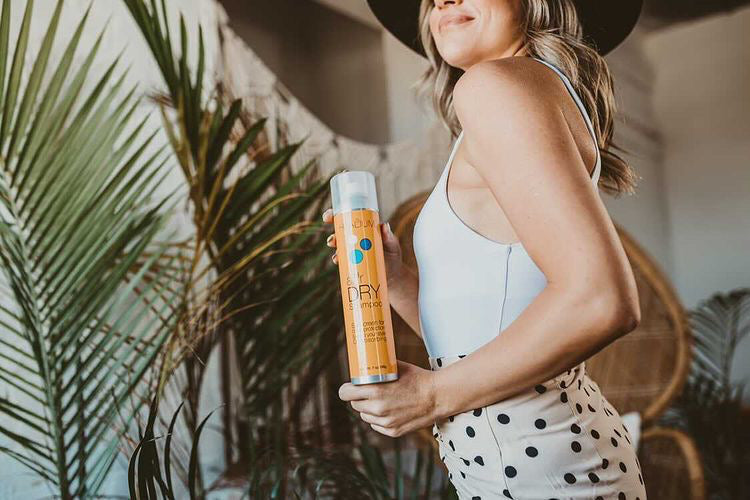 The invention of dry shampoo is one of the best developments in haircare. Since we now know that daily washing can be drying for the scalp, having a dry shampoo on hand can give your hair a refresh without a complete wash. It's a quick, convenient way to keep your hair at its best between washes.
If you have thin hair, there is always a concern that any product will weigh your hair down and make it look flat – but dry shampoo does the exact opposite. Keep reading to discover how dry shampoo can bring out the best in your fine hair.
How Does Dry Shampoo Work and What's the Best Technique to Use It?
Dry shampoo doesn't clean your hair like a typical wash – you can't wash the buildup down the drain. However, dry shampoo can restore your hair's style and appearance with just a few sprays.
The inner workings of dry shampoo start with the ingredients. All dry shampoos are incredibly absorbent, so sweat and oils can disappear from the scalp. It leaves you with hair that feels cleaner and a scalp that's less irritated from buildup.
To get the best results, there are a few tips for the best application:
Shake up the dry shampoo before using it to mix up the formula.
Don't spray too close to the scalp – anywhere between four to six inches is a reasonable distance.
Spray directly on the roots of the hair.
Keep the bottle moving as you spray to get even coverage of the product.
Let the product settle for a few minutes and let it work on absorbing the oils from your scalp, then massage gently into your scalp.
A little dry shampoo goes a long way – using a lot of the product is unnecessary and can make your hair feel uncomfortable.
Can Dry Shampoo Add Volume and Texture to My Hair?
You may not know that dry shampoo is a powerhouse product that can do so much more than simply refresh your hair between washes. Professionals use dry shampoo in mysterious ways – but they spilled the secrets, and now you can use this multi-use product to create volume and texture in your locks, even right after a wash.
To achieve unparalleled volume and fight flat hair, try flipping your hair over and spraying the hair. The texture of the dry shampoo allows the roots to lift, so it's a great alternative to hairspray and backcombing.
If you want a beachy texture for your hair but don't like the feel of salt spray, spraying dry shampoo on the length and ends of your hair will give you just that. Scrunch your hair after spraying to have a little messy, effortless style.
Is Dry Shampoo Good for Thin, Fine Hair?
For thin and fine hair, dry shampoo is the perfect versatile product. For medium to thick hair, dry shampoo is too light to do anything except absorb oil on the scalp – the hair is too heavy to get any volume from dry shampoo alone.
If you have thin hair, you get all the best benefits – almost a three-in-one product – with dry shampoo. It will revive limp hair with fewer products without weighing down the hair. Your thin hair can't lose.
How Can I Add Volume to My Unwashed Hair?
People mostly rely on dry shampoo to stretch out the longevity of second or third-day styles – the point where your blowout loses its luster or your curls come out. Before dry shampoo, you had to either throw your hair in a bun or wear hats to hide the flatness.
Dry shampoo isn't only a volumizer when your hair is clean, but it still gives your hair a boost even when it's absorbing all the day's oily buildup. Even with the finest hair, there is no need to rely on a blowout to get enviable volume – dry shampoo on second or third-day hair can still give you endless volume to hold you over to your next wash.
What Are the Benefits of Healium Hair's Dry Shampoo?
Healium Hair is the expert on thin and delicate strands – aiHr Dry Shampoo is a weightless formula that's gentle on the hair and scalp. Not only can you expect oil and sweat buildup to disappear, but with botanical ingredients and SPF protection, your hair will be shielded from harsh sun and wind damage.
Enriched with vitamins, amino acids, antioxidants, and natural oils, this dry shampoo leads to overall healthier hair and scalp. You can use this dry shampoo together with other styling products for an intricate style or on its own for an effortless look that's low maintenance and quick.
From newly washed hair to second-day hair, dry shampoo will make your thin hair come to life. If you're looking for a light volumizer that pulls triple duty, you need to add Healium Hair's aiHr Dry Shampoo to your hair care lineup.